Learning to Say No! A Non-Profit Primer (Innovation Within Non-Profits Part III)
by Tiffany Crosby on 01/22/16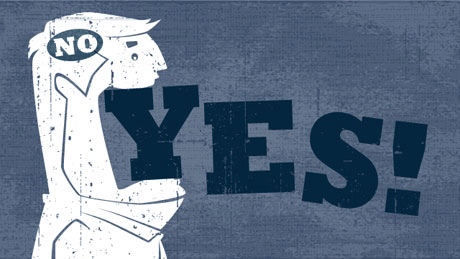 Have you drifted from your mission or values: check your funding?
Do you want to guarantee that you will drift away from your mission? Chase indiscriminately after funds and people. Funds come with strings attached; so do people. That marquee foundation that you must get in your portfolio of funders may have their own idea about your mission, programs, and operations. That person that you must have as a champion or board member may have their own idea about your mission, programs, and operations.
Before you go chasing after funds and people make sure that their vision and values match yours. Make sure that their release of funds, time, or energy is a result of their passion for the cause and not because they plan to exert control over what you do (or don't do) or how you operate.
Needing money or people is not an excuse.
Now, you may be saying, "but we need money". Trust me, I understand the plight of non-profit funding. I know what it's like to wonder whether there will be enough funds to stay in operations six months from now. I understand how tempting a large grant may seem. However, I also understand the dire consequences of drifting away from your mission and/or comprising your values in the pursuit of that mission. I've seen non-profits lose their way far too many times and it pains me.
Spare your people and protect the good work they do: Say NO
It pains me to see non-profits suffer from an identity crisis. It pains me to see people stressed out and frustrated because the demands on them are not realistic. They're trying to meet expectations set upon them by others that don't understand the true underlying issues or the programs that will be effective in dealing with those issues. These are good people. They're there because they care. And there's nothing more frustrating when you care then to be rendered ineffective regardless of how well-meaning the intentions. That's why it's dependent on your, the non-profit leader, to learn to say no.
Say No In Love But Without Apology
If you believe in the mission and believe in the organization's culture and values, then learn to say no in love but without apology. Say no to ideas that pull you away from your mission. Say no to programs that will cause your focus to drift regardless of how well-funded the program. Say no to people that want to come in and change your values. Say no to grants that require you to operate in a way that's inconsistent with your organizational values. Embracing innovation, which non-profits need to do in this dynamic environment, shouldn't change the essence of who you are. Your mission remains. Your values remain. Your programs may come and go, but you must stay grounded in your primary reason for existence or cease existing. So learn to say no!